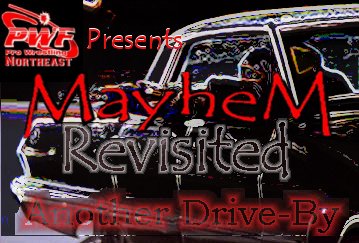 PWF Northeast presented "Mayhem Revisited: Another Drive By" at the Fargnoli Park in Providence, RI. The show was a free event with people attending asking to give donations to the Elmhurst Little League. City Councilman Patrick Butler was also in attendance.
The first match was scheduled to be a #1 Contender Match: Brotherhood of the Damned member "Kick Ass" Kyle Storm came to the ring and said due to prior commitments, Adam Booker would not be there and set an open challenge for the number one contendership to anyone in the locker room. Out came one of the debuting wrestlers for PWF Northeast, Chris Camaro. The two had a great match, with Storm coming out on top with his top rope elbow. After the match, Psycho Mike ran out and nailed Kyle with his "Straight Jacket" Sit-Out DVD.
In what can only be described as a show-stealer of a match, the debuting Kid Mikazi faced Chi Chi Cruz. Mikazi and Cruz wowed the crowd with high-flying maneuvers and technical savvy. In the end, Chi Chi won with his rolling TKO/Northern Lights combo.
Next on the show, TJ Wyld came out for another "Wyldside" segment. He said that for once, instead of him booking the guests, The Damned (PWF tag team and Producers for PWF Northeast) had told him they would be guests. The Damned came out irate, talking about how they felt screwed by Rob Dimension sanctioning their match with Da Hit Squad, at the last PWF Universal event, as a Loser Leaves Town for 90 days. They called out PWF President Rob Dimension and berated him. Dimension told the Damned he was upset with the way they played him and all of PWF with the Kyle Storm "incident". He said that they were in charge at PWF Northeast, but he paid their salaries. The Damned laughed saying he didn't pay them. At that point, a man in dress clothes, a leather jacket, and sunglasses came to the ring and ran down Dimension, referring to PWF Northeast as "his show". The Damned seemed to be in full agreement. The man's last words to Dimension were that he needed "a Reality check". At that point the Damned attacked Dimension, kicking him to the ground, where Draven and Mad Dog stated, "that's enough". The man in the sunglasses handed them each a large wad of cash requesting one more attack. Mad Dog set up Dimension and Draven hit the PWF President with a frog splash. The PWF Northeast Tag Team Champs Fuzion (formerly Emerald Fusion), with Mercedes, ran out with chairs to chase off the Damned and their new "benefactor". They helped Dimension up and left the ring together.
In a battle of David vs. Goliath, "Big League" Brian Black defeated "Schoolboy" Derik Destiny with his "Shaken, Not Stirred" Full Nelson Slam. Destiny came close to upsetting Black on quite a few occasions before falling victim to "Big League" and his deadly finishing move.
The next match was a grudge match. "Toxic" Tommy Knoxville of the Brotherhood of the Damned faced off with rival "Psycho" Mike Osbourne. The two both stepped it up, showing that they both have the potential to be major players in the PWF Northeast. Knoxville found himself on the losing end of Osbourne's "Straight Jacket" finisher. After Osbourne won, Kyle Storm returned to the ring beating down Mike. Knoxville recovered and the two left "Psycho" Mike lying unconscious in the ring. The feud between Psycho Mike and members of the BotD has just begun.
"Revolution" Chris Venom was overdue to face "Enforcer" Larry Huntley. Huntley's interference caused Venom to lose more than one match, and even a heavyweight title. The fans were solidly behind the "Revolution" in this match, even helping him with a little illegal assistance pulling the hand of Venom to give leverage on a submission. Huntley fought back with his entire arsenal, but fell victim to Venom's "BTf'nR" modified T-Bone Suplex. Venom wins the match and is definitely in line to finally get his hands on Huntley's cohort, PWF Northeast Champion "Bad Boy" Billy Black.
In a special attraction NWA New England match, former NWA-NE Heavyweight Champion Beau Douglas defeated former NWA-NE Junior Heavyweight Champion Nick Narcisstic.
PWF Northeast Heavyweight Champion "Bad Boy" Billy Black defended the title against his former student, the amazingly popular Duff. Duff showed that on any given day, he could upset and become champion. He hit his "Bully Buster" finish on "Bad Boy", who rolled out of the ring. As Duff went to bring the champ back in, "Bad Boy" hit him with a tool he found under the ring. Black then pinned Duff using the ropes for added leverage.
Another great match followed with the debuting Vertabreaker wrestling "Heartbreaker" Ruy Batello w/"Mouthpiece of the East" Sean Gorman. Verte demonstrated his great ability in martial arts kicks and high-risk offense, while Ruy showed his strength advantage. Verte, who gained great altitude on a plancha, threw Ruy outside. "Big League" Brian Black ran out for unknown reasons. He then hit Verte with his Full Nelson slam from outside the ring, back into the ring. Ruy pinned Veret with a handful of tights. As Ruy and Gorman gloated, Vertabreaker recovered. He nailed Ruy with a top rope dropkick and then set Ruy in the corner. Much to the crowd's delight, Verte showed off with a revenge move… the dreaded "Van Terminator".
The main event was named "Crucial Risk". It was to be an 8 Man Mixed Elimination Match consisting of The Hard-core Institute's Bash Brothers (Frankie Armadillo & Kid Krazy) "Extreme" Adam Hastey & Zachary vs. PWF Northeast Junior Heavyweight Champ KL Murphy, PWF Northeast Tag Champs Fuzion (Mike Paiva& Blade), and Mercedes. The match would go until one team was left. The person scoring the final winning pin fall got an added stipulation as well. If Fuzion or Mercedes won the match, The Bash Brothers forfeited any rematches for the Tag Titles. If KL Murphy won the match, he would get a shot at the PWF Northeast Heavyweight Title. If The Bash Brothers won, they would regain the PWF Northeast Tag Titles. If "Extreme" Adam Hastey won, he would be the new PWF Northeast Jr. Heavyweight Champ. If Marketing Department member Zachary won, he would be issued his full wrestling license for the PWF Northeast. The match progressed with Zachary showing that he is on the verge of becoming a talented young wrestler, even hitting a moonsault dive to the outside. He was soon eliminated by KL Murphy's "Murphy's Law" moonsault reverse DDT. Adam Hastey and KL Murphy eliminated each other, following a top rope 'rana by Murphy. Murphy hit his head on the move and both were knocked out with arms draped over one another. Frankie Armadillo eliminated Mike Paiva by holding his pants during a roll-up. Blade pinned Armadillo. Armadillo interfered allowing Krazy to pin Blade. This left Kid Krazy in the ring with Mercedes. As Krazy stalked the young lady, she nailed him with a beautiful flying head scissors. Blade jumped in the ring and hit a picture perfect moonsault on Krazy and rolled Mercedes on him for the win. Due to Mercedes winning the match, the Bash Brothers forfeit any rematches to the titles. Rob Dimension got in the ring to congratulate Fuzion and Mercedes. At that point, The Brotherhood of the Damned and their benefactor walked as far as the entrance to the field and stared down with the Northeast Tag Champs and PWF President. The Brotherhood looked ready to attack, but were signaled off by the man leading them.