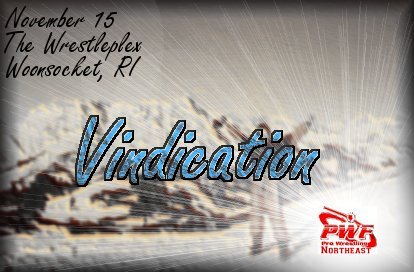 November 15, 2002

PWF Northeast stormed into Wrestleplex in Woonsocket, RI for PWF NE Vindication and a jam-packed rambunctious crowd.

In an exciting opener, Thrillogy, consisting of Chris Camero and Kid Mikaze, amazed fans with their high-flying ability against the technically sound HCI (Kid Krazy and Adam Hastey). There was a little miscommunication by Zachary of the HCI Marketing Department as he attempted to hit Camero with a pair of Brass Knuckles and hit Hastey, leaving him prone to Mikaze's Shinobi Press (Standing 360 Shooting Star Press) for the win.

Mark Reality came out to the ring to tell the fans a little about the new Luck of the Draw title which people have been buzzing about for the past few months. Although Reality did not allude to what the LotD was, he said it would be new and innovative. With that in mind, Triplelicious and Derik Destiny came to ringside to receive the rules of the match. Reality called for a coin toss to chose the stipulation for the match and Destiny lost toss twice, giving the choice to Triplelicious. Trip asked for World Class rules, which meant throwing your opponent over the top rope and piledrivers were automatic disqualifications. Destiny received one of the loudest pops of the night when he hit a rolling senton out of the ring on to Trip. After teasing throwing Derik over the top rope, Destiny was able to reverse Trip, setting up for a backdrop, when Triplelicious dropped him with a piledriver causing an automatic DQ. On his way to the locker room, Trip was extremely irate and screamed out many offensive and racist remarks.

"Big League" Brian Black visited the Wyldside this month. TJ Wyld asked him to comment on his match with Mike Anthony at Animosity. The man from the Big Leagues stated that Anthony would not last another 5 minutes with him and called Mike out for the 5 minutes. "Hott Stuff" Paul Hudson came out and slapped Brian in the face leading to a match. Hudson did everything he could to take Black down however, his size and strength proved to be an obstacle. Big League rebounded by launching Hudson into the first row of fans with a press to the outside and then capitalized with his Stirred not Shaken (Full Nelson Slam) for the win.

In a match billed as a grudge match, "Psycho" Mike Osbourne defeated "Kick Ass" Kyle Storm by disqualification. Kyle had hit his Choke Collar (Snap Spinning Neckbreaker) and a top rope elbow, both of which Mike kicked out of. Storm then proceeded to nail Osbourne several times with a chair, causing the DQ. It took five nasty chair shots to finally knock the Psychotic One off his feet.

KL Murphy defeated Duff in a return match from "Treachery" with the Knee Strike to the temple.

"Talented" Dean Ripley came out with his tag team champions The Talent Exchange (Johnny Curtis/Kenn Phoenix) thinking it would be an easy night for defending the title, but they were mistaken. Mike Paiva of Fuzion came out with the injured Blade and Mercedes. The team signaled to the back and Thriloogy's music hit. Kid Mikaze ran from the back and stated he would be Paiva's partner. They proved to be a cohesive team including hitting Phoenix with Fuzion's own Double Moonsault Japanese Armdrag. It looked like the champions would hold onto their titles when Curtis hit his Aerial Crash from the top rope and covered Paiva, however Pavia kicked out at 2, just in time for Mikaze to hit his Shinobi press. Both Paiva and Mikaze placed an arm on Curtis to win the Tag Team titles. After the win, Mike Paiva asked for the mic and thanked Mikaze for stepping into the match for Blade. He then asked him to hand the tag title to Blade. Mikaze answered him and stated that if it weren't for him, they wouldn't even be champions, and they should relinquish the title to Chris Camero. At that time, The Talent Exchange rebounded and hit all competitors with the belts. During the carnage, Ripley got on the mic screaming about respect and how they had signed to wrestle Fuzion, not Paiva and Mikaze. He also ranted that they were still champions because possession is 9/10ths of the law. The Talent Exchange left Fuzion and Thrillogy lying in the ring.

Mark Reality came to ringside with the PWF NE Junior Heavyweight Champion "Toxic" Tommy Knoxville. It was a sentimental moment as Reality handed Knoxy a new pair of sunglasses and Knoxy kicked out TJ Wyld once again from commentary. Knoxville would be defending against Vertabreaker. In a match that amazed fans, Vertabreaker attempted to pull Knoxville into the ring with a suplex, however, Mark Reality walked from the commentary booth and pulled Vertabreaker's legs out allowing Knoxville to cover Verte for the pin. The referee did not see Reality holding the legs.

In the main event built over a year, Chris Venom finally had his shot against "Bad Boy" Billy Black for the vacant PWF NE Heavyweight title. Black came to ringside with his sidekick Larry Huntley who hadn't been seen in months. A submission match determined the first fall. The second fall was to be a bunkhouse brawl. In need of a third fall, it would be decided in a Falls Count Anywhere match. The first fall proved to be a classic wrestling match, which saw many submissions and reversals. While Bad Boy worked on Venom's leg with spinning toeholds, Chris worked towards his cross face submission. " The Revolution" was able to get the first fall by reversing the Bad Day (Inverted Spinning Neckbreaker) into the cross face submission. During the second fall, Larry Huntley presented Billy with a bull rope with a cowbell. The cowbells came into play several times during the match and eventually lead to Bad Boy receiving the second fall. Before the third match could begin, Huntley ran into the ring and began beating on Venom. Senior Referee Pepe Sanchez decreed that Huntley would be banned from ringside for the final fall. This match poured all over the Wrestleplex including into the back offices. Both wrestlers gave everything they had, but it took two BT FN R's (Chris Venom's modified T-Bone Suplex) and a Fisherman's suplex onto a chair for Venom to win the match. Venom had become the new PWF NE Heavyweight Champion to a standing ovation as the fans cheered PWF.