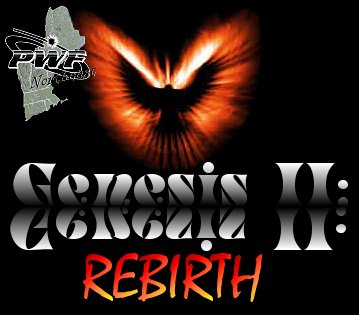 February 15, 2003
"Genesis II: Rebirth"
Boys & Girls Club
Worcester, MA

To start the show, PWF Northeast Ring Announcer Angel Avellino asked the fans to stand for a ten-bell salute honoring the memories of Eddie "The Sheik" Farhat and Curt Hennig.
The first match saw the conclusion of a feud that had run through PWF Northeast for the last 8 months. "Psycho" Mike Osbourne defeated "Kick Ass" Kyle Storm in a great match, with his "Straight Jacket Driver" (sit-out Death Valley Driver). After the match, Storm gave a small nod in respect to Osbourne.
Next up was a 5-man, one fall match. Duff defeated Triplelicious, "Heartbreaker" Ruy Batello, Cueball, and Zachary Richards, by pinning Richards with his "Bully Buster" (TKO). Following the match, "Bad Boy" Billy Black came out and began beating down Duff, his former student. PWF Northeast color commentator Ebony Blade ran out to make the save, setting up for a match between the two later in the night. This was a rematch of a storied Rivalry from years past in New England Indies.
In a rematch from "Animosity", "Big League" Brian Black faced "Mac Daddie" Mike Anthony. This match was brutal, with both men beating each other all over the building. Eventually, both got fed up with Referee Holyoke Joe's efforts to enforce the rules and KO'd him, earning a Double disqualification. They then brawled out of the arena and had to be separated by officials and other wrestlers.
TJ Wyld came out for his "Wyld-side" interview segment, declaring 2003 the "Year of the Wyld-side". His first guest of the year would be MTV/WWE Tough Enough III finalist, Jonah. The crowd warmly welcomed Jonah, and he told them that he was proud to be a part of the PWF Northeast 1 year anniversary, as it was definitely one of the best places in the area to compete. The interview was interrupted by Brotherhood of the Damned members "Kick Ass" Kyle Storm, "Toxic" Tommy Knoxville and Demonica. Storm grabbed the microphone and told Jonah he had no respect for the way he tried to get in the business. Veterans travel the roads trying to earn respect and make a name for themselves, and Jonah tried to sneak his way in. This led to Storm slapping Jonah, who then speared "Kick Ass". Demonica and Knoxville jumped in to help Kyle, and the three left Jonah lying in the ring. Jonah challenged Kyle to a match later in the night. Storm turned him down. Jonah then made a remark about how Kyle lost his earlier match, which drew Storm to accept the challenge.
The fourth match of the night was a special Women's Match. Demonica faced the debuting Ariel. Both women stepped it up and proved that they were not just "eye candy". Ariel showed why she is becoming a well-traveled star at her young age, while Demonica demonstrated her tenacity for dishing out pain. The end came when Ariel went for an "Ariel-Go-Round" (360 press off the top rope) and missed. Demonica followed by walking the top rope and delivering a clothesline for the win.
Words cannot do the next match justice. It was signed to be a Ladder match between the three top tag teams in PWF Northeast to decide the Undisputed PWF Northeast Tag Team Champions. It ended up being a Tables, Ladders and Chairs match with a bit of everything. Fuzion (Blade and ½ of the PWF-NE Tag Champs Mike Paiva) accompanied by Mercedes, faced Thrillogy (Chris Camero and ½ of the PWF-NE Tag Champs Kid Mikaze) and the final team of the Talent Exchange ("Premier Player" Johnny Curtis and "Broadway" Kenn Phoenix) managed by Dean Ripley. Some of the insanity witnessed by the crowd included a Blade Moonsault from the top of the ladder to the outside, amazing wrestling by all involved, Mike Paiva getting busted open on a ring post, Mercedes coming off the ladder with a flying head scissors and much more. Chris Camero missed a 450 splash off the ladder, and both members of the Talent Exchange missed moves and ended up going through tables. At one point, Dean Ripley pushed over the ladder, with members of Thrillogy and Fuzion on it. Mercedes proceeded to enter the ring and rearrange his naughty bits with a well-placed punch. Ripley was hurt badly and left the ringside area. Paiva attempted to give Curtis a hurricanrana off the top, but was caught and given an "Aerial Crash" through a table. As Thrillogy and Fuzion spilled out of the ring injured, Dean Ripley reappeared on the arena balcony. He then lowered the tag titles to his fallen wrestlers. Referee Phil Gates turned and saw the belts on the Talent Exchange, awarding them the match. As upset as fans may have been at the outcome, they stood and applauded all of the men in the match. Already some Internet sites are saying this could be the 2003 Northeast Indy Match of the Year!
What could follow such a match? In a total change of pace, PWF-NE Junior Heavyweight Champion "Toxic" Tommy Knoxville defended against his top challenger, Vertebreaker in a 2-out-of-3 Falls match. Besides great action, this match featured a Vertebreaker "Tarantula", Knoxville's "Stinkmouth" (a burp into his opponents mouth… yes we know it is gross), and Vertebreaker's "Cottonmouth Killer" (Van Terminator). The first fall was won by Knoxville with his "Tommyknocker" (springboard DDT). Vertebreaker took the second fall with a rolling submission into a pin. The third and deciding fall came when after a series of moves; Knoxville hit a piledriver for the win and a successful title defense. After the match, Knoxville helped up Vertebreaker and raised his hand in a show of respect.
PWF Universal General Manager Rob Dimension came out to talk about how proud he was with PWF Northeast's direction and success. PWF Northeast Owner Mark Reality came out with a plain-clothes police officer and took the microphone away from Dimension. Reality announced a new General Manager for PWF Northeast in "Gorgeous" Gino Giovanni, who wasn't present. He then announced that the officer was there to arrest Dimension for assaulting Giovanni at the last PWF event in Pottstown, PA. Dimension was hard-cuffed and removed from the arena.
In the renewal of a long-standing rivalry, Ebony Blade defeated "Bad Boy" Billy Black with an inside-cradle reversal of a spinning-toe-hold. Ebony Blade amazed the crowd with a top rope dive to the outside onto his opponent. To this day, Black has never been able to beat Ebony Blade. Since Ebony appeared at the "Convergence" event last year, Black's career has been on a downward spiral.
In his first actual singles match since finishing "Tough Enough III", Jonah entered the ring to face ten-year veteran, "Kick Ass" Kyle Storm. Jonah and Storm went back and forth, until Storm seemed to have total control of the match. Jonah fired back and set up "Kick Ass" for a Top-Rope Clothesline. Kyle ducked and Jonah knocked out referee Phil Gates. This brought out Tommy Knoxville brandishing a kendo stick. Knoxville got in the ring and went to hit Jonah, missing and instead nailing Storm. Jonah hit Knoxville and then went to pin Kyle, who kicked out at the two count. Minutes later, Jonah kicked out of Storm's Top-rope elbow drop and "Choke Collar" (snap spinning neck breaker). Kyle attempted one more "Choke Collar" that was reversed by Jonah into the "3 Second Ride" (Spinning slam into a urinage) for the win. "Kick Ass" gave a handshake of respect to Jonah following the match.
The main event was a tag team turmoil match for the PWF-NE Heavyweight Title. The man scoring the fall would be the new champion. Kid Krazy, with Dr. Everette Payne, teamed with "The Self-Professed Hero" KL Murphy to face "The Promise" Antonio Thomas and PWF-NE Heavyweight Champion "Revolution" Chris Venom. This match proved that all four were technically sound. Krazy and Murphy focused their attack on the arm of Venom. When he finally tagged in Thomas, "The Promise" was like a wild animal. He attacked Krazy, finishing him with a huge press slam. This led to Krazy and Thomas brawling outside and Murphy and Venom on the inside. Venom was able to hit a Northern Lights Bomb for the win and to retain the title. Thomas looked visibly upset at the fact that his partner scored the fall and not him.