---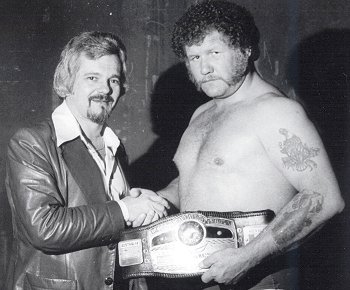 Les Thatcher congratulates NWA World Champ Harley Race.


Hotseat had the unique opportunity to talk with the legendary eight time NWA World's Heavyweight Champion "Handsome" Harley Race. As a warm up for February's "Learning With The Legends" Seminar in Webster, MA, Race talks about a variety of subjects; including Ric Flair, why Elite Pro Wrestling Training seminars are the best in the business, and more.
Hotseat: What brought the all of you together to start Elite Pro Wrestling Training Seminars?
Harley: AFTER THE TRAINING IN LAS VEGAS TURNED OUT SO EXCELLENT, WE HELD ONE HERE IN ELDON [Missouri] AT MY SCHOOL, THEN IN CINCINNATI AND THOSE TURNED OUT EXCELLENT ALSO
Hotseat:
What would an average day at an EPWT Seminar consist of?
Harley: IT STARTS WITH ABOUT 1 HOUR OF CARDIO, THEN SOME IN RING WORK, THAT LET US SEE WHAT LEVEL THE STUDENTS ABILITIES ARE AT. THEN WE SPLIT THEM OUT AND GO FROM THERE, TO TAKE THEM TO A HIGHER LEVEL..
Hotseat:
Who would you recommend come to such a seminar (like the one hosted by PWF Northeast)?
Harley: EVERYONE SHOULD ATTEND BECAUSE IN WRESTLING YOU NEVER QUIT LEARNING.
Hotseat:
What sets the trainers of this seminar apart from the dozens of "dojos" and "wrestling camps" currently being run across the country these days? (I know this seems obvious, and to me really is... but I figure Joe Q Public may want to know)
Harley: A TOTAL OF 50 PLUS YEARS OF WRESTLING EXPERIENCE AND PERFORMING THE WORLD OVER.
Hotseat:
Who are some of the recognizable names on the independents or on television that you have been involved training or developing?
Harley: A LOT OF MY WRESTLERS WE'RE TRAINED BY ME IN MY SCHOOL HERE IN ELDON, AS WELL AS SOME BIG NAMES HAVE COME IN TO WORK FOR ME. A LOT OF MY GUYS HAVE BEEN BOOKED NUMEROUS TIMES BY THE WWE, AS WELL AS PRO WRESTLING NOAH IN JAPAN. SOME OF THE NAMES YOU WOULD RECOGNIZE ARE SUPERSTAR STEVE, ACE STEEL, & THE HARRIS BROTHERS.
Hotseat:
What advice would you have for the wrestler just cutting their teeth or the prospective wrestler looking to get into the business?
Harley: LEARN HOW TO REALLY WRESTLE AND LEARN THE BASICS THAT WOULD PREPARE YOU TO BE ABLE TO WRESTLE ANYWHERE AND ANYONE.
Hotseat:
What originally drew you to the wrestling business?
Harley: I STARTED AT THE AGE OF 15, I KNEW I COULD DO IT AND I KNEW I WOULD ONE DAY BE GREAT.
Hotseat:
What keeps you in the business after long and storied careers?
Harley: MY LOVE FOR THE BUSINESS AND THE WILLINGNESS TO HELP THOSE YOUNGER GUYS ATTAIN THEIR GOALS..
Hotseat: Word/Name Associations:
a) EPWT Seminars:
Harley: IT IS GOING TO BE GREAT.
b) Wrestlemania III's Rick Steamboat vs. Randy Savage match:
Harley: ONE OF THE ALL TIME BEST MATCHES EVER!
c) Ric Flair:
Harley: HE IS ALSO ONE OF THE BEST.
d) Winning your first NWA World Heavyweight/Tag Team Title:
Harley: I WON THE NWA WORLD TITLE 8 TIMES.
e) "Sports Entertainment":
Harley: I DON'T LIKE THE WORDS.
f) The Wrestling Territories before WWF/WCW went national:
Harley: THE GREATEST TIME IN WRESTLING.
g) Wrestling's hottest star of 2008 (five years from now):
Harley: SOMEONE FROM MY WORLD LEAGUE WRESTLING.
---
Past Hotseat Interviews:
Les Thatcher "Kick Ass" Kyle Storm Kenn Phoenix KL Murphy
Kid Mikaze "Psycho" Mike Osbourne Vertabreaker Rob Dimension "Revolution" Chris Venom