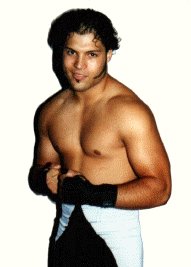 Chi Chi Cruz
---
Premier Wrestling Federation Northeast Debut: April 28th, 2002
Originally trained at the APW gym in California by Mike Modest, Donovan Morgan and Vinnie Massaro, Chi Chi Cruz now is an East coast mainstay. This fiery proud Latino stands out with his innovative offense and verbal tirades about how great he is. Recently in PWF Universal, Chi Chi has joined forces with The SAT and Rapid Fire Maldonado as "The Latino Alliance". All feel that they have been held down by "the man" and the other white wrestlers.
Chi Chi returned to PWF Northeast defeating one of his students, Kid Mikazi, at "Mayhem Revisited". The match was so good, it won Mikazi a regular spot on the Northeast Roster. Cruz is also instrumental in the training of Chris Camero, Mikazi's tag partner.
When will Chi Chi return... and with what goals?